Godfather
Joseph
with his
Goddaughter
Olivia
November 12, 2003
Gone 9 years today.
August 8, 2013
In Loving Memory of

My Nephew

"Joe"

Joseph O. DesRochers

Born Into This Life

April 7, 1983

in

Clearwater, Florida

Entered Into Eternal Rest

August 8, 2004

in Saint Petersburg, Florida

at the Age of 21

Due To Suicide.

Joe will always live on in our

Hearts and Memories,

We will never stop

Loving or Missing Him.
We
Warmly

"WELCOME"

You to Joe's Site

and

"THANK YOU"

for all your kind words

and prayers.

Please take a few minutes to visit this web page.

I think you will enjoy it.

http://www.andiesisle.com/icanonlyimagine.html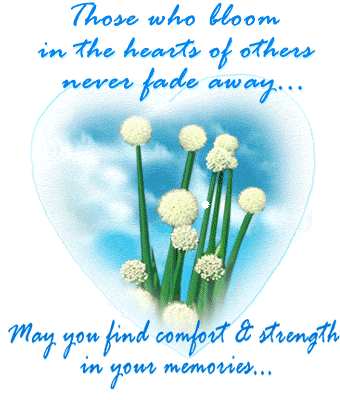 Words of Wisdom for the New Year

The most destructive habit........Worry
The greatest joy.......Giving
The greatest loss.......Loss of self-respect
The most satisfying work.......Helping others
The ugliest personality trait.....Selfishness
The most endangered species.....Dedicated leaders
Our greatest natural resource.....Our youth
The greatest "shot in the arm"......Encouragement
The greatest problem to overcome......Fear
The most effective sleeping pill......Peace of mind
The most crippling failure disease......Excuses
The most powerful force in life......Love
The most dangerous pariah......A gossiper
The world's most incredible computer......The brain
The worst thing to be without......Hope
The deadliest weapon.....The tongue
The two most power-filled words......"I Can"
The greatest asset.....Faith
The most worthless emotion......Self-pity
The most beautiful attire.....SMILE!
The most prized possession.....Integrity
The most powerful channel of communication.......Prayer
The most contagious spirit......Enthusiasm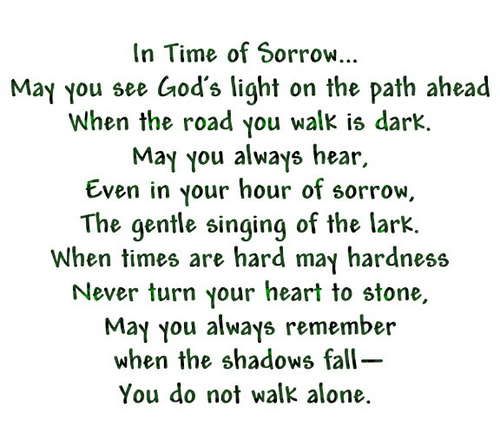 For a special baby

I said a little prayer today
To thank the Lord above
For sending you from heaven-
A miracle of love.
I thanked Him for your little smiles,
For your precious baby sighs,
And for every trace of starlight
That twinkles in your eyes.
I asked Him to send His angels
To protect you all your days,
And as you grow to guide you
In His perfect, loving ways.



With a little Faith,
We will make it through these trying times.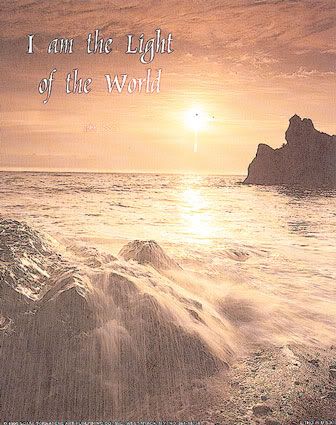 LOVE'S PATH

~The warmth of love is in the air
The sky is shining bright
Love will hold a special child
Embraced by hand so light
Showing all the beauty of
The nature in full bloom
Walking hand in hand with love
Seeing earth resume
Beauty all around us now
Holding to us fast
Natures kisses all our hearts
With memories to last
Walk with love within your heart
Grab on to your soul
Each step you take connection to
The love that you can hold
Miracles of life you see
Close within the heart
A timeless treasure you can keep
These years will never part.~
~ Francine ~


LOVE YOU MOMMA

Gosh I love you Momma
I really do it's true
You make me feel so happy
Each day and nighttime, too

You even buy me ice cream
Three scoops when I am blue
You are my special Momma
I truly do love you

Not for what you give me
Just for when your there
I always know my Momma
Will hold me very near

What more can I wish for
You truly are the best
Sending this with love to you
So you'll be triple blest.~
~ Francine Pucillo



"I prayed for this child,
and the Lord answered my prayer and gave him to me.
Now, I dedicate him to the Lord.
He will belong to the Lord all his life."



Why God Created Little Boys

God made a world out of His dreams
of majestic mountains, oceans and streams,
prairies and plains and wooded land,
then paused and thought...

"I need someone to stand
on top of the mountains, to conquer the seas,
explore the plains and climb the trees.
Someone to start out small
and grow sturdy and strong like a tree,"
and so...

He created boys, full of spirit and fun,
to explore and conquer, to romp and run,
with dirty faces and banged up chins,
with courteous hearts and boyish grins.

When He had completed the task He'd begun,
He surely said, "That's a job well done."
If you have pictures of Joe
that you would like to add to his site.
"PLEASE" feel free to do so.
"Those who touch our lives Stay in our hearts forever..."

"Those we have held in our arms for a little while,
we hold in our hearts forever"



God took another Angel home...

You're a special boy,
so strong and brave.
So I know now,
why you were taken away.

Your strength, your will,
I'll always adore.
You fought many battles,
you'll suffer no more.

Although I'm sad,
and feel all alone.
I'm happy for you.
your pain is gone.
-Marie Weaver
"Perhaps they are not stars in the sky,
but rather openings where our loved ones shine down to let us know they are happy"
PLEASE try to take the time to
light a candle for each of
Your Angels.
7 April 1983

Your date of conception was on or
about 15 July 1982 which was a Thursday.

You were born on a
Thursday under the astrological sign Aries.

Your Life path number is 5.

*5 (5, 14/5, 23/5, 32/5)
The Life Path 5 suggests that you entered this plane with a highly progressive mindset, with the attitude and skills to make the world a better place. The key word for your Life Path is freedom. In the pursuit of freedom, you are naturally versatile, adventurous, and advanced in your thinking. You are one of those people who is always striving to find answers to the many questions that life poses. The byword for the positive Life Path 5 is constant change and improvement. You want to be totally unrestrained, as this is the number most often associated with the productive use of freedom.

You may be one of the most compassionate of people as the 5 is surely the most freedom-loving and compassionate Life Path. Your love of freedom extends to humanity at large, and concern for your fellow man, his freedom and his welfare, may be foremost in your mind. A great Life Path 5 American President, Abraham Lincoln, issued the Emancipation Proclamation, and ended slavery in America. As the ultimate progressive thinker type, your potential in government, the law, and other positions of authority is unlimited.

You are a good communicator, and you know how to motivate people around you. This may be your strongest and most valuable trait. Because of this skill, and your amazing wit, you are a truly natural born salesman. This ability to sell and motivate extends to any sort of physical product all the way through to whatever ideas or concepts you may embrace.

You abhor routine and boring work, and you are not very good at staying with everyday tasks that must be finished on time. On the average, the number 5 personality is rather happy-go-lucky; living for today, and not worrying too much about tomorrow. It is also important for you to find a job that provides thought-provoking tasks rather than routine and redundant responsibilities. You do best dealing with people, but the important thing is that you have the flexibility to express yourself at all times. You have an innate ability to think through complex matters and analyze them quickly, but then be off to something new.

A love of adventure may dominate your life. This may take the form of mental or physical manifestation, but in either case, you thrill to the chance for exploration and blazing new trails. Surely you belong to a group considered the most worldly and traveled. Clearly you are not one to pass up a good venture. You have quite a lot of the risk-taker in your makeup. If you aren't putting your money at stake, you are surely open to a wide variety of risks in your everyday life. Taking the conservative approach is just not in your nature.

In romance, you hate to be tied down and restricted. This doesn't necessarily mean that you are unfaithful or promiscuous, but it does mean that a good partner for you needs to understand your nature. A relationship based on jealousy and having tight reigns is not going to work at all for you. A partner who understands your need to be free and trusted will find you trustworthy, even if you aren't constantly available and totally dutiful. It is important for you to mix with people of a like mind, and to try to avoid those that are too serious and demanding.

If you are living on the negative side of the Life Path 5, you are apt to be multitalented, but suffering from some lack of direction, and there is confusion surrounding your ambition. Restless, discontent, and impulsive, you may bounce from one job to the next without accomplishing much at all. A negative Life Path 5 can become very irresponsible in tasks and decisions concerning the home and business life. The total pursuit of sensation and adventure can result in your becoming self-indulgent and totally unaware of the feelings of those around you.*

Your fortune cookie reads:
Little and often makes much.

Life Path Compatibility:
You are most compatible with those with the Life Path numbers 1, 5 & 7.

You should get along well with those with the Life Path numbers 3 & 9.

You may or may not get along well with those with the
Life Path number 8.

You are least compatible with those with the Life Path numbers 2, 4, 6, 11 & 22.

The Julian calendar date of your birth is
2445431.5.

The golden number for 1983 is 8.
*Golden Number:
A number showing the year of the lunar or Metonic cycle. It is reckoned from 1 to 19, and is so called from having formerly been written in the calendar in gold.*

The epact number for 1983 is 16.
*Epact Number:
The moon's age at the beginning of the calendar year, or the number of days by which the last new moon has preceded the beginning of the year.*

The year 1983 was not a leap year.

Your birthday falls into the Chinese year beginning
2/13/1983 and ending 2/1/1984.
You were born in the Chinese year of the Pig.

Your Native American Zodiac sign is Hawk;
your plant is Dandelion.

You were born in the Egyptian month of Paony,
the second month of the season of Shomu (Harvest).

Your date of birth on the Hebrew calendar is
24 Nisan 5743.

Or if you were born after sundown then the date is
25 Nisan 5743.

The Mayan Calendar long count date of your birthday is
12.18.9.15.7 which is
12 baktun 18 katun 9 tun 15 uinal 7 kin

The Hijra (Islamic Calendar) date of your birth is
Thursday, 23 Jumadiyu'th-Thani 1403 (1403-6-23).

The date of Easter on your birth year was
Sunday, 3 April 1983.

The date of Orthodox Easter on your birth year was
Sunday, 8 May 1983.

The date of Ash Wednesday (the first day of Lent) on your birth year was
Wednesday 16 February 1983.

The date of Whitsun (Pentecost Sunday) in the year of your birth was
Sunday 22 May 1983.

The date of Whisuntide in the year of your birth was
Sunday 29 May 1983.

The date of Rosh Hashanah in the year of your birth was
Thursday, 8 September 1983.

The date of Passover in the year of your birth was
Tuesday, 29 March 1983.

The date of Mardi Gras on your birth year was
Tuesday 15 February 1983.

As of 1/4/2008 1:49:15 AM EST
You are 24 years old.
You are 297 months old.
You are 1,291 weeks old.
You are 9,038 days old.
You are 216,913 hours old.
You are 13,014,829 minutes old.
You are 780,889,755 seconds old.

Celebrities who share your birthday:

Russell Crowe (1964)
Jackie Chan (1954)
Janis Ian (1951)
Francis Coppola (1939)
David Frost (1939)
Wayne Rogers (1933)
James Garner (1928)
Ravi Shankar (1920)
Billie Holiday (1915)
Walter Winchell (1897)

Top songs of 1983

Every Breath You Take by Police
Billie Jean by Michael Jackson
Flashdance by Irene Cara
Say Say Say by Paul McCartney & Michael Jackson
All Night Long by Lionel Richie
Total Eclipse of the Heart by Bonnie Tyler
Down Under by Men at Work
Beat It by Michael Jackson
Islands In the Stream by Kenny Rogers & Dolly Parton
Baby, Come to Me by Patti Austin & James Ingram

Your age is the equivalent of a dog that is
3.53737769080235 years old.
(Life's just a big chewy bone for you!)

Your lucky day is Tuesday.
Your lucky number is 9.
Your ruling planet(s) is Mars & Pluto.
Your lucky dates are 9th, 18th, 27th.
Your opposition sign is Libra.
Your opposition number(s) is 6.

There are 94 days till your next birthday
on which your cake will have 25 candles.

Those 25 candles produce 25 BTUs,
or 6,300 calories of heat
(that's only 6.3000 food Calories!) .
You can boil 2.86 US ounces of water with that many candles.

In 1983 there were approximately 3.6 million births in the US.
In 1983 the US population was approximately 226,545,805 people, 64.0 persons per square mile.
In 1983 in the US there were 2,444,000 marriages (10.5%) and 1,179,000 divorces (5%)
In 1983 in the US there were approximately 1,990,000 deaths (8.8 per 1000)
In the US a new person is born approximately every 8 seconds.
In the US one person dies approximately every 12 seconds.

In 1983 the population of Australia was approximately 15,483,496.

In 1983 there were approximately 242,570 births in Australia.

In 1983 in Australia there were approximately 114,860 marriages and 43,525 divorces.

In 1983 in Australia there were approximately 110,084 deaths.

Your birthstone is Diamond

The Mystical properties of Diamond

Diamonds are said to increase personal clarity to help one see things clearly as well as be straight-forward and honest. Supposedly, the higher quality the diamond, the better it is supports these qualities.
Some lists consider these stones to be your birthstone. (Birthstone lists come from Jewelers, Tibet, Ayurvedic Indian medicine, and other sources)

Opal, Quartz, White Sapphire

Your birth tree is

Rowan, the Sensitivity
Full of charm, cheerful, gifted, without egoism, likes to draw attention, loves life, motion, unrest and even complications, is both dependent and independent, good taste, artistic, passionate, emotional, good company, does not forgive.

There are 356 days till Christmas 2008!
There are 3days till Orthodox Christmas!

The moon's phase on the day you were
born was waning crescent.
Thursday, April 7, 1983
Moon's age (days): 24
Distance (Earth radii): 63.53
Percent Illumination 28.26%
Ecliptic latitude (degrees): -3.40
Ecliptic longitude (degrees): 309.73

The date of Easter on Joe's birth year was...
Sunday, 3 April 1983.

The date of Orthodox Easter on Joe's birth year was...
Sunday, 8 May 1983.

The date of Ash Wednesday (the first day of Lent) on Joe's birth year was... Wednesday 16 February 1983.

The date of Whitsun (Pentecost Sunday) in the year of Joe's birth was...
Sunday 22 May 1983.

The date of Whisuntide in the year of Joe's birth was...
Sunday 29 May 1983.

The date of Rosh Hashanah in the year of Joe's birth was...
Thursday, 8 September 1983.

The date of Passover in the year of Joe's birth was...
Tuesday, 29 March 1983.

The date of Mardi Gras on Joe's birth year was...
Tuesday 15 February 1983.

Joseph O. DesRochers
There are 17 letters in your name.
Those 17 letters total to 85
There are 6 vowels and 11 consonants in your name.

What your first name means:Hebrew Male May Jehovah add/give increase. St Joseph of Arimathea undertook the burial of Jesus (in Holy Grail lore). In the bible Joseph was sold by his brothers into slavery and later rose to become a supreme power in Egypt. Also Jesus' legal father..
Biblical Male Increase; addition

Your number is: 4

The characteristics of #4 are: A foundation, order, service, struggle against limits, steady growth.

The expression or destiny for #4:
Order, service, and management are the cornerstones of the number 4 Expression. Your destiny is to express wonderful organization skills with your ever practical, down-to-earth approach. You are the kind of person who is always willing to work those long, hard hours to push a project through to completion. A patience with detail allows you to become expert in fields such as building, engineering, and all forms of craftsmanship. Your abilities to write and teach may lean toward the more technical and detailed. In the arts, music will likely be your choice. Artistic talents may also appear in such fields as horiculture and floral arrangement, as well. Many skilled physicians and especially surgeons have the 4 Expression.
The positive attitudes of the 4 Expression yield responsibility; you are one who no doubt, fulfills obligations, and is highly systematic and orderly. You are serious and sincere, honest and faithful. It is your role to help and you are required to do a good job at everything you undertake.

If there is too much 4 energies present in your makeup, you may express some of the negative attitudes of the number 4. The obligations that you face may tend to create frustration and feelings of limitation or restriction. You may sometimes find yourself nursing negative attitudes in this regard and these can keep you in a rather low mood. Avoid becoming too rigid, stubborn, dogmatic, and fixed in your opinions. You may have a tendency to develop and hold very strong likes and dislikes, and some of these may border on the classification of prejudice. The negative side of 4 often produces dominant and bossy individuals who use disciplinarian to an excess. These tendencies must be avoided. Finally, like nearly all with 4 Expression, you must keep your eye on the big picture and not get overly wrapped up in detail and routine.

Your Soul Urge number is: 6

A Soul Urge number of 6 means:
With a number 6 Soul Urge, you would like to be appreciated for your ability to handle responsibility. Your home and family are likely to be a strong focus for you, perhaps the strongest focus of your life. Friendship, love, and affection are high on your list of priorities for a happy life. You have a lot of diplomatic tendencies in your makeup, as you a able to rectify and balance situations with an innate skill. You like working with people rather than by yourself. It is extremely important for you to have harmony in your environment at all times.

The positive side of the 6 Soul Urge produces a huge capacity for responsibility; you are always there and ready to assume more than your share of the load. If you possess positive 6 Soul Urges and express them, you are known for your generosity, understanding and deep sympathetic attitude. Strong 6 energy is very giving of love, affection, and emotional support. You may have the inclination to teach or serve your community in other idealistic ways. You have natural abilities to help people. You are also likely to have artistic and creative leanings.

If you have an over-supply of 6 energy in your makeup, you may express some of the negative traits common to this number. With such a strong sympathetic attitude, it is easy to become too emotional. Sometimes the desires to render help can be over done, and it can become interfering and an attitude that is too protective, rather than helpful. The person with too much 6 energy often finds that people tend to take advantage of this very giving spirit. You may tend to repress your own needs so that you can cater to the demands from others. At times, there may be a tendency in this, for becoming over-loaded with such demands, and as a result become resentful.

Your Inner Dream number is: 7

An Inner Dream number of 7 means:
You dream of having the opportunity to read, study, and shut yourself off from worldly distractions. You can see yourself as a teacher, mystic, or ecclesiastic, spending your life in the pursuit of knowledge and learning.

"There are special people in our lives who never leave us -- even after they are gone."

PLEASE keep these
Angels and their families
in your prayers...


Roy William Moninger, SR.
August 29, 1914 - January 3, 1986

Roy William Moninger, JR.
June 27, 1942 - August 15, 1998

Carrol Dean Chew

Arthur Semrau
March 12, 1915 - April 14, 2002

Thomas E. Parker
January 12, 1932 - July 27, 2002

Amanda Semrau
December 11, 1915 - November 10, 2003

J. Eddie Connealy
Febuary 26, 1961 - December 22, 2004

August Pape
March 6, 1906 - April 3, 2005

Nolah Ava Bolli
August 2, 1918 - October 31, 2005

Tyson Edward Weber Fergen
January 30, 2006 - April 13, 2006

Emilie Lindner
January 21, 1928 - June 4, 2006

Richard "Dick" N. Bartels
January 29, 1930 - July 1, 2006

Ruben Chicone
August 2, 1974 - July 29, 2006

Steve Erwin
September 2006

Betty Ropkin
September 2006

Dan Tighe
May 24, 1916 - September 24, 2006

L. C. "Jody" Yandell
June 25, 1929 - November 9, 2006

Andrea Dee Saeger Wulf
July 2, 1965 - November 12, 2006

Kenny Clark
April 23, 1922 - January 18, 2007

Helen C. Sanders
December 30, 1916 - February 3, 2007

Robinette A. Polly
February 17, 2007

Roland J. Clark
October 3, 1927 - March 19, 2007


My other sites you may like to visit are:

http://josephdesrochers.memory-of.com/About.aspx
http://colt-penny.memory-of.com/about.aspx
http://toby-meister.memory-of.com/about.aspx
http://madison-foell.memory-of.com/About.aspx
http://mary-bates.memory-of.com/about.aspx
http://mariah-scott.memory-of.com/about.aspx

If you find something on Joe's Site
that you would like to use on your own site.
You are more than welcome to use it.
God Bless,
Johnette

"I thank my God everytime I remember you"
Joseph,
We are so Thankful that we had you in our lives.
And continue to have you in our memories.
Love,
Aunt Johnette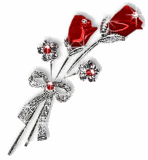 Hello God, I called tonight
To talk a little while
I need a friend who'll listen
To my anxiety and trial.

You see, I can't quite make it
Through a day just on my own...
I need your love to guide me,
So I'll never feel alone.

I want to ask you please to keep,
My family safe and sound.
Come and fill their lives with confidence
For whatever fate they're bound.

Give me faith, dear God, to face
Each hour throughout the day,
And not to worry over things
I can't change in any way.

I thank you God, for being home
And listening to my call,
For giving me such good advice
When I stumble and fall..

Your number, God, is the only one
That answers every time.
I never get a busy signal,
Never had to pay a dime.

So thank you, God, for listening
To my troubles and my sorrow.
Good night, God, I love You, too,
And I'll call again tomorrow!
P.S. Please bless all my friends and family too.
Angels are all around us.
Do you see him?


Fingertip Bible

Emergency Telephone Numbers
These are more effective than 911
When -
You are sad, phone John 14
You have sinned, phone Psalm 51
You are facing danger, phone Psalm 91
People have failed you, phone Psalm 27
It feels as though God is far from you, phone Psalm 139
Your faith needs stimu lation, phone Hebrews 11
You are alone and scared, phone Psalm 23
You are worried, phone Matthew 8:19-34
You are hurt and critical, phone 1 Corinthians 13
You wonder about Christianity, phone 2 Corinthians 5:15-18
You feel like an outcast, phone Romans 8:31-39
You are seeking peace, phone Matthew 11:25-30
< I>It feels as if the world is bigger than God, phone Psalm 90
You need Christ like insurance, phone Romans 8:1-30
You are leaving home for a trip, phone Psalm 121
You are praying for yourself, phone Psalm 87
You require courage for a task, phone < /B>Joshua 1
Inflation's and investments are hogging your thoughts, phone Mark 10:17-31
You are depressive, phone < I>Psalm 27
Your bank account is empty, phone Psalm 37
You lose faith in mankind, phone 1 Corinthians 13
It looks like people are unfriendly, phone John 15
You are losing hope, phone Psalm 126
You feel the world is small compared to you, phone Psalm 19
You want to carry fruit, phone John 15
Paul's secret for happines s, phone Colossians 3:12-17
With big opportunity/discovery, phone Isaiah 55
To get along with other people, phone Romans 12

ALTERNATE NUMBERS
For dealing with fear, call Psalm 47
For security, call Psalm 121:3
For assurance, call Mark 8:35
For rea ssurance, call Psalm 145:18

ALL THESE NUMBERS MAY BE PHONED DIRECTLY.
NO OPERATOR ASSISTANCE IS NECESSARY.
ALL LINES TO HEAVEN ARE AVAILABLE 24 HOURS A DAY.
FEED YOUR FAITH, AND DOUBT WILL STARVE TO DEATH.

There will come a day
when the tears of sorrow
will softly flow into
tears of remembrance...
and your heart will begin
to heal itself...and grieving
will be interrupted by episodes
of joy...and you will hear
the whisper of hope.
There will come a day
when you will welcome the
tears of remembrance...
as a sunshower of the soul...
a turning of the tide...
a promise of peace.
There will come a day
when you will...
risk loving...
go on believing...
and treasure the
tears of remembering.



U.S. House Unanimously Passed Joshua Omvig Veterans Suicide Prevention Act

Today, March 21, 2007, the U.S. House of Representatives unanimously passed (423-0) the Joshua Omvig Veterans Suicide Prevention Act (H.R. 327). SPAN USA thanked U.S. House Veterans Affairs Committee Chairman Bob Filner of California and the bill's sponsor, Rep. Leonard Boswell of Iowa, for their work in ensuring the measure's swift passage. During debate on the floor, thirteen representatives made remarks encouraging their fellow members to vote for the bill.

The Joshua Omvig Veterans Suicide Prevention Act directs the Secretary of Veterans Affairs to develop and implement a comprehensive program to reduce the incidence of suicide among veterans, would make available 24-hour mental health care for veterans found to be at risk, and would develop an outreach and education program for veterans and their families to recognize readjustment problems and promote mental health.

"Nothing is more important than ensuring that our veterans receive the mental health care that they need. SPAN USA applauds the U.S. House for its swift action," said Jerry Reed, executive director of SPAN USA. "Preliminary data indicates that veterans are at a higher-than-average risk for suicide. The data suggests that 19 percent of all completed suicides are veterans, but they only make up 11 percent of the population – making passage of the Joshua Omvig Veterans Suicide Prevention Act all the more critical."

The bill is named for Joshua Omvig, who suffered from post-traumatic stress disorder following an 11-month tour of duty in Iraq, and completed suicide in 2005 at his home in Iowa.

"One life lost to suicide is one too many. With the passage of the Joshua Omvig Veterans Suicide Prevention bill today in the House, I'm hopeful that this problem will be adequately addressed by the VA," said Rep. Boswell.

SPAN USA thanks all of our partners for action for their work to ensure the passage of the bill. Without your e-mails and calls this important piece of legislation may not have passed. The swift movement on the bill shows that advocacy in action works!

The Senate version of the bill, S. 479, was introduced in February, but no further action has been taken. To ask your Senators to cosponsor the bill, please visit the SPAN USA legislative action center alert.

http://capwiz.com/spanusa/issues/alert/?alertid=9385141&type=CO


Kissin Cousins.
Kaya and Joe
Always joking around.
Four things you can't recover:
The stone.....after the throw.
The word.....after it's said.
The occasion.....after it's missed.
The time.....after it's gone.
Guardian Angels
There are those who believe

So the story is told,

That at birth you receive

Your own Angel to hold.

You come to this world

On a wing and a prayer,

And through your lifetime

She will always be there.

A guardian Angel

Who will guide what you do,

Her heart filled with love

Sent to watch over you.
Earth's Angels

God's Angels are depicted,
All wearing pretty wings....
Along with a golden harp,
Sweet music that they sing.

Don't overlook Earth's Angels,
We see them everywhere....
In the daily deeds they do,
Because they truly care.

These Angels have been touched by God,
They answered his loud knock....
Going forth to do God's work,
On earth where they now walk.

Never asking for reward,
On Earth where they reside....
Accumulating Angel points,
And doing so with pride.

Not every Angel comes equipped,
With wings to lift them high....
For the Angels here on earth,
Will get theirs by and by.

Angels do not all wear wings,
Nor have a halo too....
Yet they will surely earn those,
Because of deeds they do.

Earth's angels poem by (c) Loree (Mason) O'Neil.




THANK YOU"
to the following Sites
for the use of their
GREAT GRAPHICS, POEMS, and WORDS.

http://s51.photobucket.com/albums/f383/Naomi74/?
http://s40.photobucket.com/albums/e218/vallane/?
http://blinkies.clgstationery.com/
http://home.bellsouth.net/p/s/community.dll?ep=16&groupid=302485&ck=
http://www.hayeskent.com/angelreminders/
http://www.angelfamilies.cityslide.com/page/page/2659723.htm
http://www.angeleyes2.com/
http://www.uselessgraphics.com/
http://www.bigoo.ws/
http://www.paulsadowski.com/birthday.asp
http://www.myhtmlhelp.com/
http://blinkyou.com/
http://www.danggoodjokes.com/
http://www.eakles.com/index.html
http://www.emusing.com/
http://www.piczo.com/staciesgiveaways?g=13906896&cr=1

John 16:33
These things I have spoken so that in me
you may have peace. In the world you have
tribulation, but take courage, I HAVE OVERCOME THE WORLD



JUST CHECKING IN
A minister passing through his church
In the middle of the day,
Decided to pause by the altar
And see who had come to pray.

Just then the back door opened,
A man came down the aisle,
The minister frowned as he saw
The man hadn't shaved in a while.

His shirt was kinda shabby
And his coat was worn and frayed,
The man knelt, he bowed his head,
Then rose and walked away.

In the days that followed,
Each noon time came this chap,
Each time he knelt just for a moment,
A lunch pail in his lap.

Well, the minister's suspicions grew,
With robbery a main fear,
He decided to stop the man and ask him,
'What are you doing here?'

The old man said, he worked down the road.
Lunch was half an hour.
Lunchtime was his prayer time,
For finding strength and power.

'I stay only moments, see,
Because the factory is so far away;
As I kneel here talking to the Lord,
This is kinda what I say:

'I JUST CAME AGAIN TO TELL YOU, LORD,
HOW HAPPY I'VE BEEN, SINCE WE FOUND EACH OTHERS FRIENDSHIP AND YOU TOOK AWAY MY SIN. DON'T KNOW MUCH OF HOW TO PRAY,
BUT I THINK ABOUT YOU EVERYDAY.
SO, JESUS, THIS IS MIKE CHECKING IN TODAY.'

The minister feeling foolish,
Told Mike, that was fine.
He told the man he was welcome
To come and pray just anytime

Time to go, Mike smiled, said 'Thanks.'
He hurried to the door.
The minister knelt at the altar,
He'd never done it before.

His cold heart melted, warmed with love,
And met with Jesus there.
As the tears flowed, in his heart,
He repeated old Mike's prayer:

'I JUST CAME AGAIN TO TELL YOU, LORD,
HOW HAPPY I'VE BEEN, SINCE WE FOUND EACH OTHERS FRIENDSHIP AND YOU TOOK AWAY MY SIN. I DON'T KNOW MUCH OF HOW TO PRAY,
BUT I THINK ABOUT YOU EVERYDAY.
SO, JESUS, THIS IS ME CHECKING IN TODAY.'

Past noon one day, the minister noticed
That old Mike hadn't come.
As more days passed without Mike,
He began to worry some.

At the factory, he asked about him,
Learning he was ill.
The hospital staff was worried,
But he'd given them a thrill.

The week that Mike was with them,
Brought changes in the ward.
His smiles, a joy contagious.
Changed people, were his reward.

The head nurse couldn't understand
Why Mike was so glad,
When no flowers, calls or cards came,
Not a visitor he had.

The minister stayed by his bed,
He voiced the nurse's concern:
No friends came to show they cared.
He had nowhere to turn.

Looking surprised, old Mike spoke
Up and with a winsome smile;
'the nurse is wrong, she couldn't know,
That he's in here all the while

Everyday at noon He's here,
A dear friend of mine, you see,
He sits right down, takes my hand,
Leans over and says to me:

'I JUST CAME AGAIN TO TELL YOU, MIKE,
HOW HAPPY I HAVE BEEN, SINCE WE FOUND THIS FRIENDSHIP,
AND I TOOK AWAY YOUR SIN.
ALWAYS LOVE TO HEAR YOU PRAY,
I THINK ABOUT YOU EACH DAY, AND
SO Mike, THIS IS JESUS CHECKING IN TODAY.'

If this blesses you, pass it on. Many people will walk in and out of your life,
but only true friends will leave footprints in your heart.

May God hold you in the palm of His hand
And Angels watch over you.

Please pass this on to your friends & loved ones.
If you aren't ashamed. Jesus said,
' If you are ashamed of me,' I will be ashamed
Of you before my Father.'